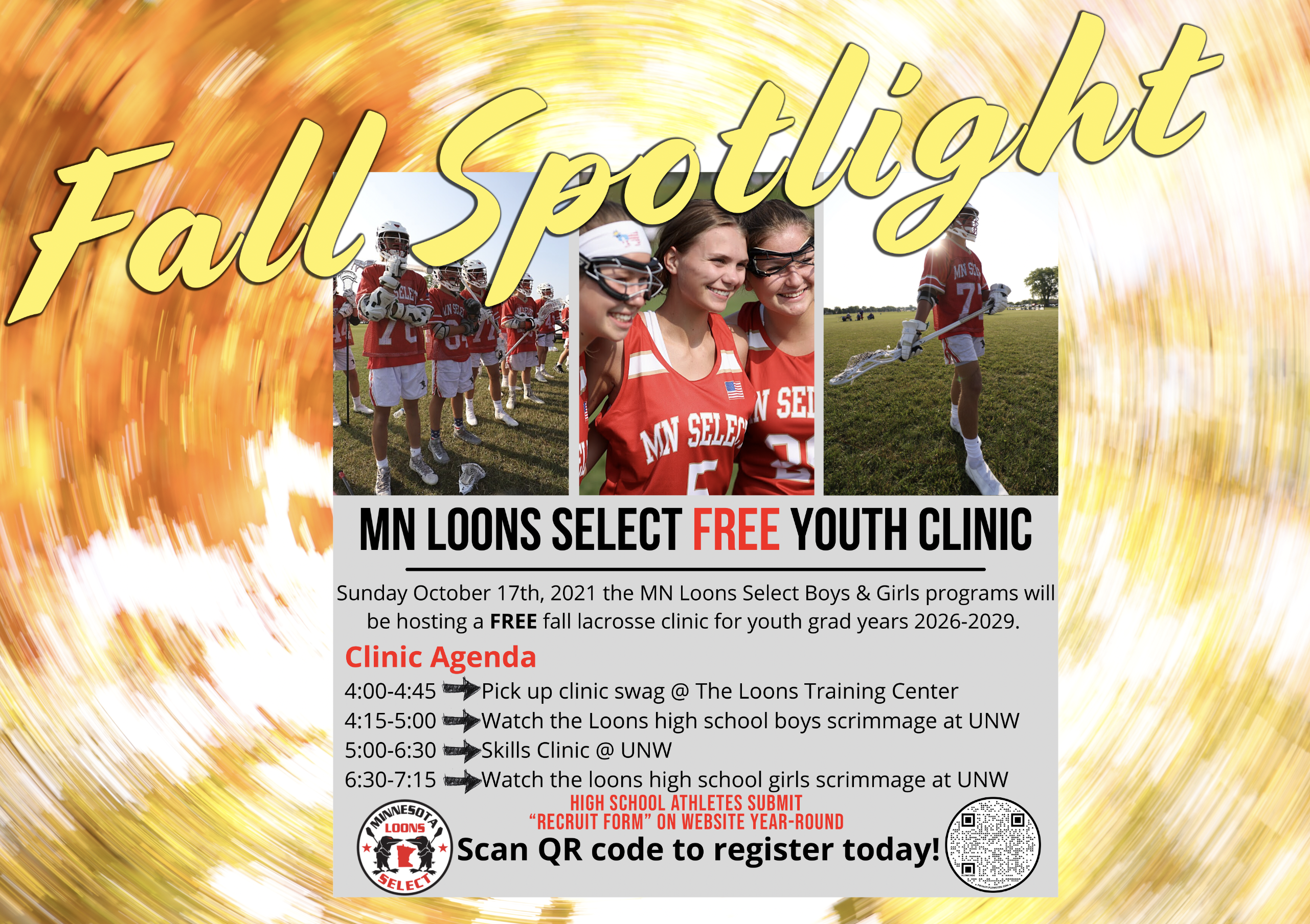 Details:

Boys and Girls ages 2026-2029

High School Athletes fill out "Recruit Form" to the right for an invitation upon email response

Location:

Stadium Field at University of Northwestern. Roseville MN. 3003 Snelling Ave N, Roseville, MN 55113

Loons Training Center for check in 1633 Terrace Drive, Roseville MN 55113

Times:

October 17th 2021

4:00-4:45pm Pick up "Grab Bag" at Loons Training Center 1633 Terrace, just a couple blocks south of the stadium!

5:00-6:30pm Skills Clinic at University of Northwestern Stadium

Arrival: Please make sure athletes arrive and check in 15 minuets prior to event times. 

What to bring: All lacrosse equipment. Please bring your own drink/beverage. No equipment will be provided. 

Overview/Agenda:

Time to roll em out! Welcome to our annual Fall clinic hosted by Minnesota Loons Lacrosse staff for the community and prospective MN SELECT Lacrosse players at ZERO cost and ZERO obligation! Just a great opportunity to come out, learn, meet our staff and compete!

MN SELECT Loons lacrosse staff will run the athletes through sessions of skill work, lacrosse IQ and gameplay. Drills are created to emphasize new lacrosse technique and may shed new light on how the game can be viewed with a new found sense of creativity. the drills will feature fast paced play with hi-reps. For those who attended our "Winter Spotlight" you will see a whole new practice plan!

We welcome all players to attend from any community, any team, and any school. This event WILL SERVE as an evaluation for possible invitation to limited spots for Boys/Girls MN SELECT teams and alternate positions.
Heard of our program but want to form your own opinion and meet our staff?
Just want to get out and pay lacrosse, learn and have fun?
Wonder what another club program is like or how they run practice?
Maybe have interest in playing for a club program and want to be evaluated?
Then this is the spot!
Current MN SELECT athletes please do not fill out registration