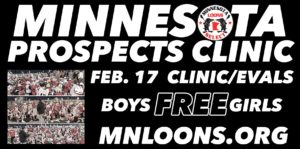 Presidents Day "Minnesota Prospects Clinic"
Dates/Times: Feb 17th
Girls 9:30-11:00am All ages
Boys 11:30-1:00pm All ages
Boys U10-2021, Girls Middle School-High School
All non MN SELECT players must register for event. Register above!
Location: Providence Academy Dome
Join us on this annual event! This FREE event is for current MN SELECT student athletes and those who are interested in the program. Participants will be coached in a number of drills by position, age, and group format. Our staff will go through instructional mechanical drills to collegiate fast paced scenarios! "Prospects" will be evaluated for future potential positions in the MN SELECT program.
MN SELECT Loons Lacrosse has an annual tryout session in late summer but unique to our name we continue to evaluate and may "SELECT" players for potential positions and alternates year round. In our eyes a "tryout" is an opportunity to evaluate players yes, but even more so an opportunity for this players to evaluate us as a staff and program!

THE LONGEST RUNNING CLUB LACROSSE PROGRAM IN MINNESOTA
The Minnesota Loons provides talented high school players exposure to NCAA recruits, premiere showcase competition across the country and coaching to take their game to the next level. We encourage our athletes to have a strong work ethic and provide a competitive and comfortable environment to do so. Our goal is to not only improve and develop lacrosse skills, technique, and know how; but also to help develop a strong work ethic for Minnesota`s youth and have them "Set their Sights" on their future and inspire on and off the field!