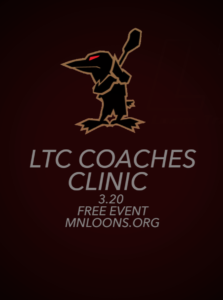 LTC Coaches Clinic - (Postponed) 
Dates/Times:  March 20th, 6:00pm-9:30pm with intermission
Who:  Coaches for youth-HS Boys and Girls Lacrosse. Adults only please
FREE Event.  Please register with Link above! (Event will have a capacity)
Location:  Loons Training Center 1633 Terrace Drive, Roseville MN 55113
Every year we are approached by youth communities who are looking for qualified coaches for association teams. Through all of our years here in the Minnesota Lacrosse community we have noticed the need for more coaches and more officials. We are offering this free event to help support the growth of the game, instill confidence, and educate our local coaches!
On Friday March 20th the Minnesota Loons Lacrosse staff will invite the community into our training center! Our staff is comprised of coaches and players with NCAA, MSHSL, and youth coaching experience. If you are interested in hearing more about our staff please head over to our staff page above, lets get on with some of the details! Here are some of the features of the event
Staff Background
Practice Planning for your age/skill
Terms, communication, General philosophy
Technology and Tools
Progressive Tactics, "What works and Why"
General Gameplay overview.
Compartmental Gameplay- Zone/Man, Rides/Clears, Offense
Fundamental skill Mechanics Passing/Catching
Whiteboard/Video warm up and passing drills
Small group warm up drills
Team integrated Hi-Rep warm up drills
Live on Field demos with HS players
Mechanical Shooting form drills
Hi-Rep Shooting Drills
Defensive footwork drills
Defensive skill building Drills
1v1 drills and why
Even/Odd number progressive drills
Unsettled or odd man drills and "what we try to achieve"
Goalie/Faceoff/Draw work- Drills and Theory
Team Hype Drills
Confidence with your team. Finding your team. Progressing and continuing education
As you can see we will have a lot to cover. Our staff will be very efficient moving through different facets of the game. An agenda and general overview packet will be provided. You may want to bring something to write on! All participants must pre-register! Thank you for attending
THE LONGEST RUNNING CLUB LACROSSE PROGRAM IN MINNESOTA
The Minnesota Loons provides talented high school players exposure to NCAA recruits, premiere showcase competition across the country and coaching to take their game to the next level. We encourage our athletes to have a strong work ethic and provide a competitive and comfortable environment to do so. Our goal is to not only improve and develop lacrosse skills, technique, and know how; but also to help develop a strong work ethic for Minnesota`s youth and have them "Set their Sights" on their future and inspire on and off the field!